LADY LUCK MONEY SPELL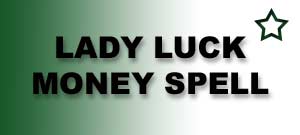 Spell casting for nine full days.

This spell will please the lady luck of money "DINAN"

This is an English/Egyptian spell that was made by me few decades back and is still pleasing people ever since I made it.

You will simply take a white paper and on it write this spell nine times. Do this each night at bed time and use a new paper each time.

"OH LADY LUCK DINAN"
"YOU POUR LUCK TO ALL"
"NOW MY TURN FALLS"
"BLESS ME NOW"
"TIME HAS COME"
"THOU SHALL FULFIL YOUR PROMISE AT ONCE"
"MOON IS UP SO DO IT NOW"
"HAIL YOU NOW O LADY LUCK OF MINE"

Each night after you complete writing the spell on the paper nine times, keep the paper safely in your room. Like this you will have nine papers with you on the ninth day.
On the tenth day or night you will take all the papers and burry the papers in a flower pot.

This spell will bring you plentiful luck and money.
Miracles are never believed till actually experienced. The lady luck money spell is a miraculous spell.