MAGIC SPELLS BLOG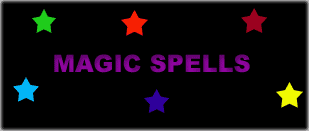 Few posts I feel should be added to guide people who visit my website. These are my answers to questions asked by general public in conferences.
Q. What is spell casting?
A. Spell casting is a very powerful phenomenon. When done in the right way will create wonders one desires. Casting is done by me and you will experience the changes taking place in your life.
People always demand magic spells to attract a lover, for money, long term relationships, prosperity in business, court cases and so on. Note that spells help you in all fields of life.
Q. Pictures are required for casting spells?
A. One common question asked by people is that are pictures required for spell casting? I want to make one thing clear that spells are cast by me not on the basis of pictures but birth names alone. Birth name of a targeted person is more than enough for casting a spell with accuracy.
Spells work in any case because they are cast by me and all work is customized depending on each request I receive.
Q. What about forced spells?
Remember magic spells are not forced spells, this is a myth that people fall for every now and then that a spiritualist can force spells on others to work. Casting works on the universal laws.
Q. Truth behind your spells and spell casting?
For spell casting to be a success, I have to use mind body connection in order for the work to be a success. This is science and a true fact. Simply reading few lines is not casting. This is authentic information on spells that i have just revealed.
Q. What is spirituality?
A. It's the reality of universe on whose principles our world moves on.
It's the inner essence of life and of each and every living being.
Humans are very lucky and special since we can look into our inner lives and make changes that will drastically change and shape our future.

Q. The next question will be how can spirituality or the state of spirituality be achieved?
A. You will need to become a master to achieve the state of spirituality. It's the level of higher being. For beginners the exercise I recommend is meditation, for intermediate I recommend yoga and for advanced the subconscious mind training. If you do the above I can guarantee that you will be the most superior human being and the most enlightened soul in the universe and on this very planet. However most people if not ninety percent of the people are not ready to devote time towards spirituality. I have always worked on the basics of magic and spirituality.
All spiritual and magical goods that you see on my website are based on spirituality. I always ask for birth name and birth date before the preparation of any item for a client followed by spiritual calculations and manipulations done which not only makes my item work on the esoteric, occult and magical level but also at the spiritual level. I use the basics of spirituality for each and every power that I produce right from spells, love spells, invocation formulas, charms, pendants and talismans.
Q. It is noted when you say I perform spell casting based on spiritual calculations, birth name, birth date and most interestingly you mention the use of spiritual connection along with esoteric and the occult. This seems to be rare. Please explain.
A. It feels good when very few of the well educated clients ask me rare and interesting questions. I like answering them.
You see the magical powers produced by most casters in the world will work at the basic esoteric and occult level. The magical powers that I produce work at the esoteric, occult and most importantly at the spiritual level. Spirituality dictates the universe and all the more reason why it is so important in spell casting.

Spirituality is the key ingredient in spell casting and magic on the whole.
Let me explain what I mean by the spiritual level.

Lets take for example that I have to cast for an individual.

[Esoteric and Occult level] The spell is cast by me that will work at the occult and esoteric basic level.
[Spiritual level] A scripted writing is sent by me to a client and the client has to wear it. What this scripted writing does is that it will work on the alignment of stars and at the same time work at the subconscious level (higher mind which connects with the universe spiritually aka subconsciously)
This is what I mean by spiritual level. There is no power in this entire universe that can match up to the subconscious.
Spells and magic cast or performed by neglecting spirituality and the spiritual laws are completely baseless and ineffective.

Q. Positive psychology and any relation with your powers?
A. I work at the esoteric, occult, spiritual and the subconscious level. Of course whoever knows about the power of subconscious will know that subconscious and positive psychology both work in sync and go hand in hand. There is no other superior power in the world than the subconscious. My aim always is to tap into the untapped energy of the subconscious mind which is the advanced superior level and of course my powers also work at the esoteric and the occult level making sure that the client is successful and achieves his desires and goals. Remember I leave nothing to chance and success is guaranteed.

Q. Do you use esoteric, occult, magic and subconscious theories together for each and every spiritual product?
A. Yes I use these theories for all my work.
All products you see on my website indeed are truly based on the these theories.