FREE MARRIAGE SPELL TO MARRY DESIRED PARTNER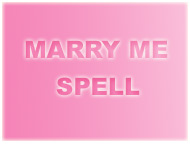 Do this spell casting if you are not getting married to the person you love for one reason or the other. Individuals who fail to get married for years successfully get married after casting the spell.

You will take a red satin fabric or a red satin handkerchief.

Take one spoon full of ginger powder and put it in the red cloth/handkerchief making sure that you tie the cloth in such a way that the ginger does not come out (make a small knot with ginger powder secured in it)

After the above is done chant this spell seven times.

"LOA NIDAF JAAN TIRARAKRI PAAR IRKI"
After chanting the spell loudly seven times….Tie the cloth/handkerchief firmly around the picture of your lover or if you don't have his/her picture then you can tie the cloth/handkerchief around his/her name securely.

You will get married to the love of your choice.

Results are noted in seven-ten days.