FREE LOVE SPELL TO FIND YOUR SOUL MATE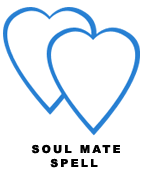 This free love spell works on the energy produced by the subconscious with regards to your imagination.

For six full nights before going to bed.

You will spray rose perfume in your room.

You will then sit in a relaxed upright position and will chant the spell six times.

"Behans Behans Majdar Maazshid Vaazdi Dardtis Shizra"

Create a realistic image of your desired partner. Hold that image in the mind; concentrate for 3-4 minutes after which you will chant the spell. With passing days you will actually notice the partner in imagination would be smiling at you and could even be trying to communicate with You with her/his eyes in real life….

Do this for six nights and you will find or come in contact with your soul mate.
Soul mate love spells are many but this is the most strongest and quickest in giving results.