FREE FERTILITY SPELLS - CURE IMPOTENCE - FEMALE OVULATION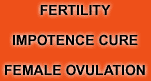 FERTILITY SPELL FOR BOTH SEXES
This spell is used by both males/females.

Cast it for seven nights.

At bedtime you must chant the spell thirty times for seven nights and then sleep.

" ZARKASHTAR BRETARSHU CHUAARUL FUMAZ"

When casting the spell imagine the image of a child.
You shall soon become a mother or father.
MALE FERTILITY BOOST SPELL
The sperm count measure dictates whether a man can become a father or cant. Changes in the system often with age in some people lead to a lower count and hence impotence. This is no cause for concern and reversing it is easy.
The spell successfully reverses impotence and gives a boost to men.
Cast the spell everyday and never stop.
Chant the spell every morning ten-twenty times and blow air from mouth onto a very small quantity of pure honey and consume that honey.
"LAB ZABAL JEEBAK DHUM"
The spell starts working from day one.
FEMALE OVULATION BOOST SPELL
Female infertility is the main factor due to which females don't conceive. The rate of female infertility is quiet high which is very surprising.
The spell successfully will reverse infertility in females making them fertile and able for conception.
"BAZGAL BAZGAR JANGAR ZEER"
Everyday in the morning cast the spell hundred times after which one must blow air from mouth onto the palms and rub hands on the stomach going down to the genital region and lower back.
The spell has reversed even the most toughest of cases and never fails.
ERECTILE DYSFUNCTION CURE SPELL
Erectile dysfunction causes no erections and zero sexual drive which destroys a man's sexual life completely. Medications don't work and cannot reverse erectile cases.
Erectile dysfunction occurs in older people and younger males as well.
You have the chance to get rid of erectile dysfunction permanently by casting this spell and need not put much effort in casting this simple spell.
Cast the spell everyday hundred times till eventually you start noticing strong erections.
"GATA GAT GEGATHA NEEK"
After casting the spell blow air from mouth onto a cup of milk and drink it.

In a short span of time you will have complete freedom from erectile dysfunction.