COMPLETE DESTRUCTION REVENGE SPELL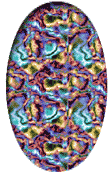 It's a voodoo destruction spell and is for complete destruction. Mix caution with aggression and think before casting this spell because once it is cast then there is no way to take back or reverse this spell. There is no reverse gear once the spell is cast. The spell works and spreads at a speed of fire bringing about complete destruction and dismay to a person. Rapid destruction will overcome a person for whom this spell is cast.
Take a small authentic voodoo doll and nine pins.
Write the name of the person on the chest of the doll.
Chant the spell nine times on each pin and insert the pins in the doll.
Securely place the doll after the insertion of pins is complete.
"GADDA GODHAK LAHAL LAAK"
Use this spell cautiously. It's very powerful.